Outstanding public space design has the unique opportunity to shape a region. By creating attractive and engaging outdoor areas, architects and landscape architects can make a project more comfortable, successful and profitable, leading to an elevation of everything and everyone connected to it.
Techo-Bloc is passionate about empowering designers and architects to shape their communities in whatever way they see fit, and we recognize that it varies by region.
Since we get asked so often if people can see our products installed near them, we've put together this list of some of our favorite installations featuring Techo-Bloc that you can visit to see their beauty (and durability) for yourself. Don't see a location near you? Reach out to a rep and we're sure they can help you locate one close by.
Quebec
Veteran's Park
Veteran's Park at Fort Chambly is a worthwhile stop for anyone who hasn't visited the area before. Between historic fort tours, a beautiful view of the coast and an urban park, this outdoor space has something for everyone. And although our pavers don't hold the historical significance of a 400-year-old fort, we still think they're the star of the show.
We love that the architect chose to combine our Blu 80 Smooth square and rectangle pavers with Antika, one of most alluring and whimsical collections. The contrast of sharp edges and cobblestone-inspired accents keeps this project modern while still giving a nod to the site's rich heritage. The pavers were installed in 2016 so Veteran's Park is an excellent case study on Techo-Bloc's durability in harsh, winter conditions.
Pôle culturel de Chambly in Chambly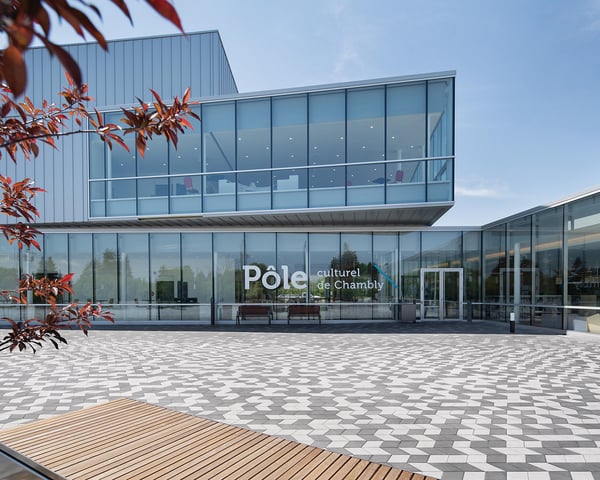 Chambly's Pôle cultural center is a new library that covers an area of approximately 20,000 square feet and houses a collection of nearly 65,000 documents. The library offers a self-lending service, reading areas, computer spaces, work rooms, an animation area for toddlers, a permanent art exhibition and more.
When it came time to decide on the pavers, the city knew they needed a product that would match the modern aesthetic of the library, along with being able to withstand the harsh winter. They chose Techo-Bloc's Diamond pavers, in two shades of grey, for a unique and compelling look. The texture of the Diamond pavers provides a slip-resistant finish to keep visitors safe even in wet, cold weather.
Visit the Pôle Culturel de Chambly
Deloitte Tower, Windsor Station and Bell Centre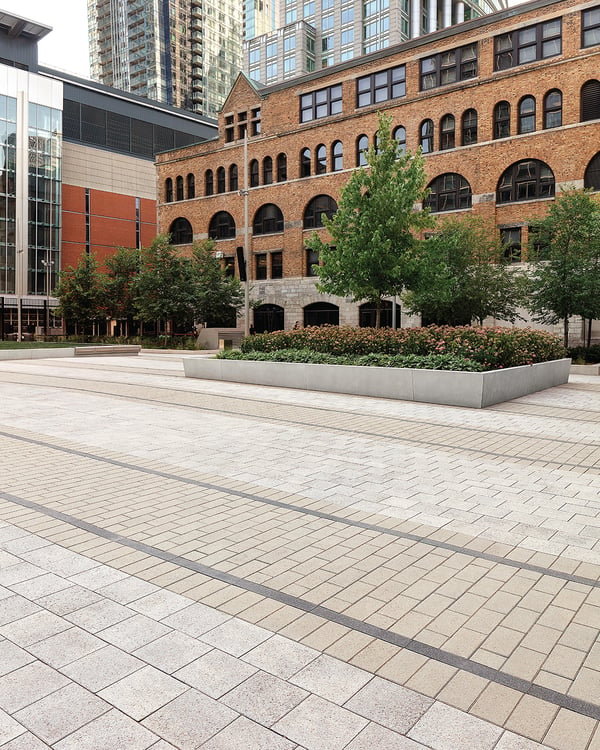 In downtown Montreal, the high-rise commercial building plaza shared by Tour Deloitte and the National Historic site Windsor Station was renovated and redesigned with Techo-Bloc products for its new courtyard.
Whether you opt for a custom fire pit or install a pre-packaged one, your fire feature is sure to bring warmth and light to your backyard spaces.
To keep up with the heavy foot traffic from hockey fans and to hold up against the harsh, salted, freezing winters, designers needed to find a durable paving solution. They offered the client a customizable, versatile design with Techo-Bloc's Industria paver. These precast concrete paving stones are manufactured to exceed all industry standards and are a staple in commercial projects.
As a show of appreciation for Windsor Station's history, the design team utilized Techo-Bloc's Smooth and Granitex finishes to create a unique pattern of train tracks.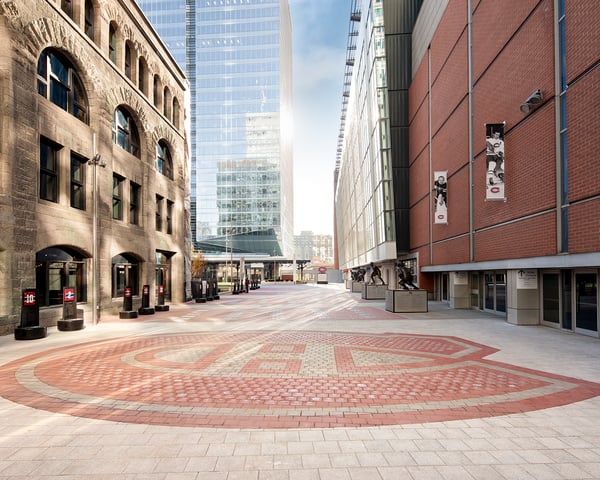 One of the most eye-catching aspects of the project is undoubtedly the custom red paving blocks. Specified as a nod to the beloved Montreal Canadiens hockey team, and installed in the shape of the team's logo, this design element is a perfect example of extending your branding all the way to the ground. Looking even closer, you'll notice the pavers are engraved with the names and sentiments of fans of the Canadiens hockey club. These fans purchased the customized engraving prior to 2009, and the team wanted to ensure they were recreated in the new design. Techo-Bloc worked with a local engraver to have their contribution included and weather-proofed so the passion for the Canadiens is preserved.
Visit Deloitte Tower, Windsor Station and the Bell Center
La Grande Roue de Montréal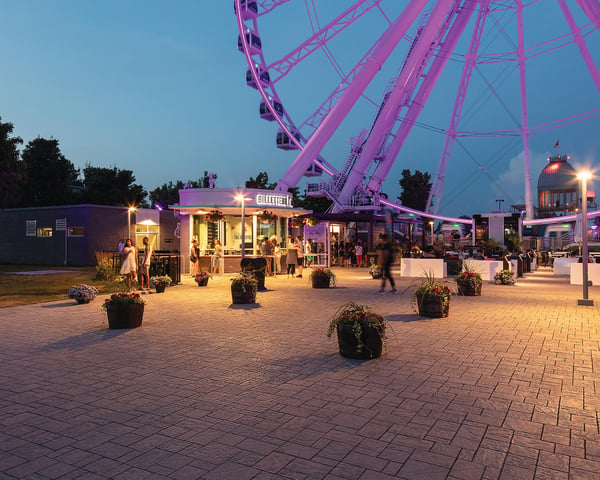 La Grande Roue de Montréal consists of the tallest Ferris Wheel in Canada, standing as high as a 20-story building. The wheel was inaugurated to celebrate Montreal's 375th anniversary. Techo-Bloc was honored to be included in the landscaping construction of one of Montreal's number one tourist attractions, thanks to the pavers' high durability.
Up top, you can admire the beauty of Mount Royal and the St. Lawrence River in cool, climate-controlled gondolas. Down below, you can enjoy the exceptional terrace created using Techo-Bloc's Mista Random pavers and Blu 60 mm slabs with some local nibbles and treats.
The sun reflecting off the crisp lines and strong undulated textures of the Mista paver is sure to give you a feeling of heightened serenity with its rugged and natural stone.
The design starts at the colorful Ferris wheel's base and extends to a nearby cafe and ice cream stand, showcasing over 10,000 square feet of weather-resistant pavement. It's gorgeous in the summer under fireworks and gorgeous in the winter, even with frequent pressure washing, heavy de-icing salt applications and snow plowing.
Because of these Techo-Bloc products' texture, La Grande Roue de Montreal highlights European style enhanced with modern textures and colors. Plus, the pavers were locally-made, reducing this project's carbon footprint and helping the community feel connected to the attraction.
Visit La Grande Roue de Montreal
Griffintown on Murray Street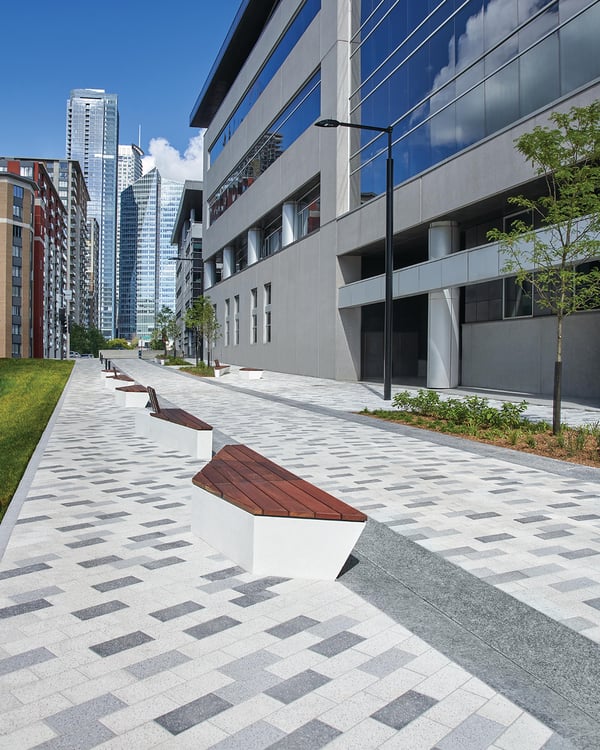 Murray Street in Montreal underwent some upgrades in 2019, including new pavers for both the street and the sidewalk. The city and the architects chose our Industria pavers in a custom salt and pepper color palette.
Because of the long wet weather in the winter, they needed pavers that were slip-resistant, and the Industria pavers have a granular texture that is highly slip-resistant and salt-resistant, perfect for a public location that sees a lot of traffic and needs to last for a long time with little to no maintenance. Plus, it's available in several dimensions that will let you create an interesting design — just like they did in Griffintown.
West Island College Montreal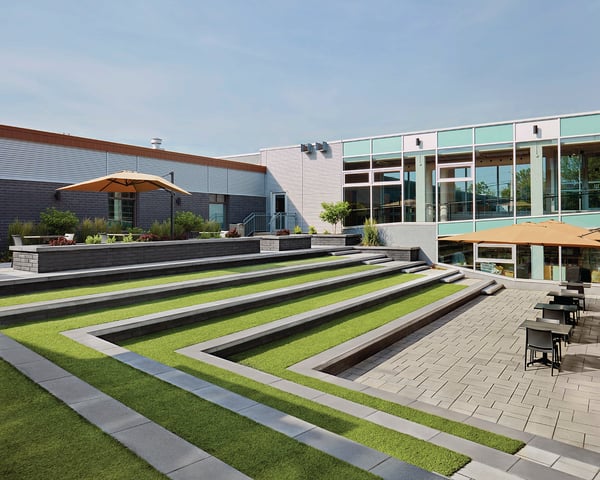 West Island College Montreal is a private, independent high school — actually, it's two schools in one. It is an entirely French school and an English school with a French immersion program. Both schools are co-ed, independent, secondary schools offering enriched studies in French and English.
When they redid their courtyard in early 2020, they knew they needed a safe but beautiful paver that could handle the Montreal winters. They choose Blu Smooth for their pavers, Raffinato Step in Onyx for the steps and Raffinato Cap in Onyx for the tops of the planter walls.
The combination of textures and sizes against the green grass gives the courtyard an interesting look, perfect for inspiring creativity in students. Plus, the pavers are permeable, so there's no concern about pooling water or problems with runoff.
Visit West Island College Montreal
Ontario
Western University in London, ON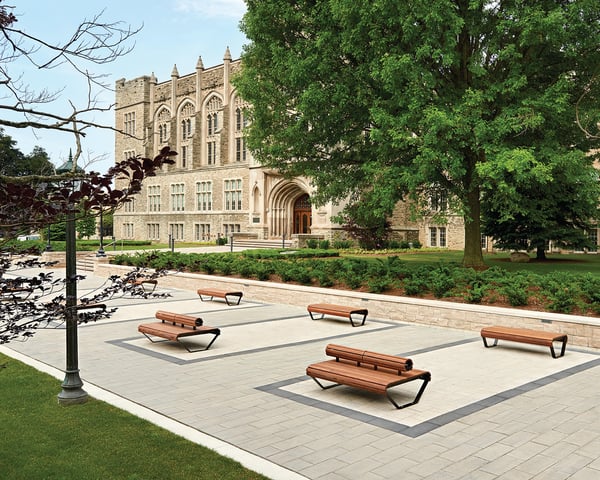 Founded in 1878, Western University engages the best and brightest people challenging them to meet ever-higher standards in the classroom and beyond. Considered Canada's most beautiful university, Western's main campus spans 1,200 acres of Gothic-style buildings mixed with modern, LEED-certified structures.
In 2019, they decided to update some of their walkway and sitting areas. They wanted a durable product that was safe for their students to walk on even in winter. But they also wanted the pavers to match their historic aesthetic. They chose the Industria paver in various sizes, textures and colors to create a design that was unique and eye-catching, without clashing with the historic buildings.
National Holocaust Museum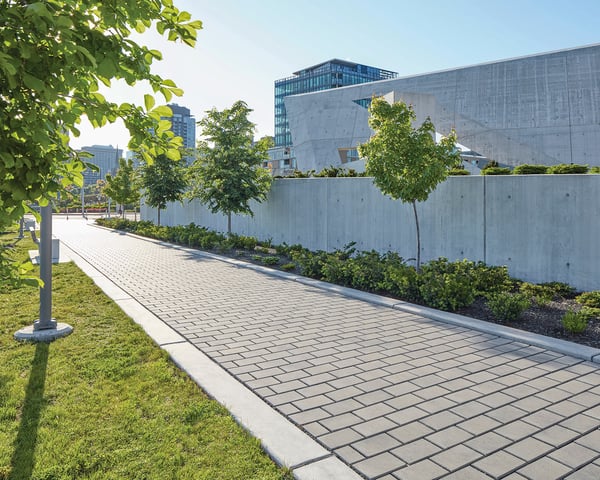 During a time of crowd-sourced fads and short-lived pop-ups, the Holocaust Monument stands as a testimony to both a tragic historical moment and the power of thoughtfulness and deep, on-going conversations between designers, artists, architects and the diverse community they serve.
The monument's pathways utilize Techo-Bloc's Hydra Permeable Pavers, a ground-breaking storm-water management paving system for heavy traffic industrial, commercial and institutional use. Not only does it create a breathtaking and sleek modern look, but it also addresses the growing need to increase ground permeability and sustainability goals with stormwater management.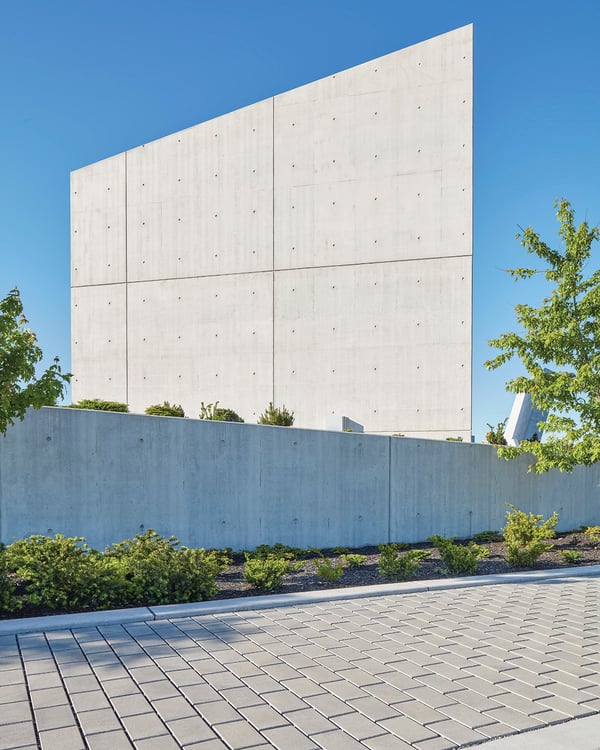 Monuments, at their heart, are commemorative. The Holocaust Museum provides a place for people to have their pain, grief and loss acknowledged in a wider, public sphere. A lot of heart and soul went into the design — including the traditional Jewish use of stones as remembrance — and it will long have relevance in Ottawa's landscape.
Visit the National Holocaust Monument
Massachusetts
Steamship Authority Terminal in Woods Hole, MA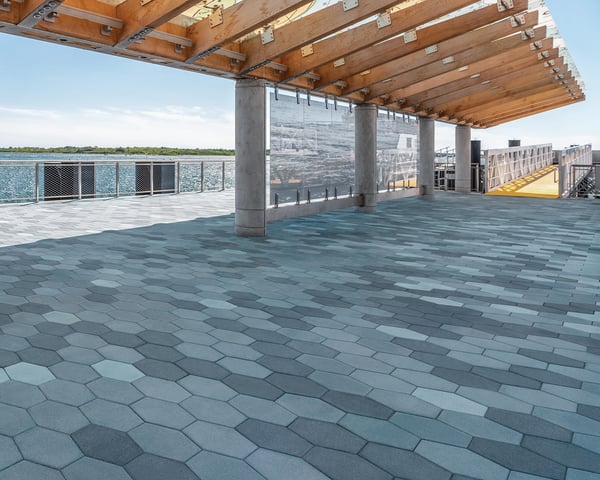 The Steamship Authority Terminal provides ferry transportation between Cape Cod and the islands of Martha's Vineyard and Nantucket. It's the largest ferry service in the area with multiple daily departures. They see a lot of heavy automobile and foot traffic, so when they needed to update their waiting area and patio pavers in 2020, they knew they needed a product that could hold up.
They chose Hexa pavers in several custom shades of blue for an eye-catching design that guests would love and would work with their branding. Plus, it's highly durable. It can withstand the harsh weather conditions of being by the water in a cold climate, and it is de-icing salt resistant, so they can keep guests safe without worrying about the integrity of the pavers.
Visit the Steamship Authority Terminal
Vermont
Carinthia Base Lodge in Dover, VT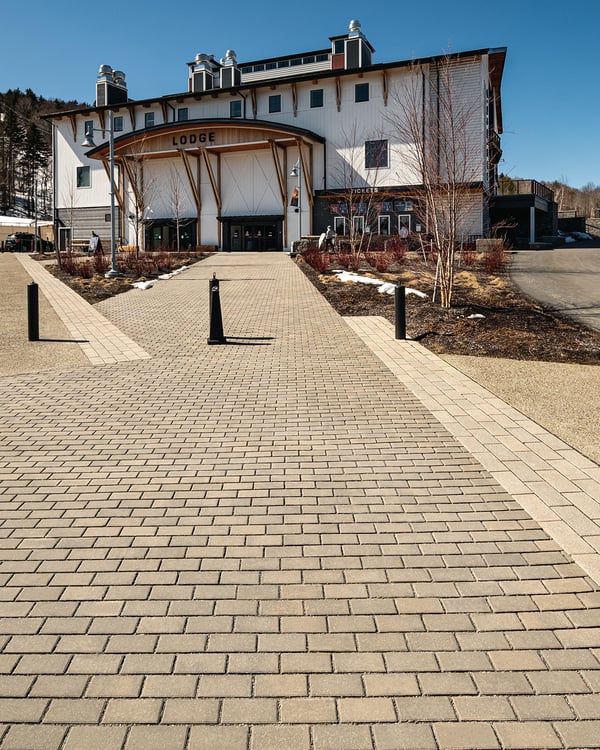 Carinthia Base Lodge is the home of a snow park that boasts 100 acres of parks loaded with rails, jumps, creative lines, tree-skiing zone, and Mount Snow's monster superpipe. It's a great place for anyone who wants an epic winter experience.
But they needed pavers that could handle high traffic, extreme cold and lots and lots of snow. That's why they choose a three-color blend of Victorien pavers in Onyx Black, Shale Grey and Mojave Beige.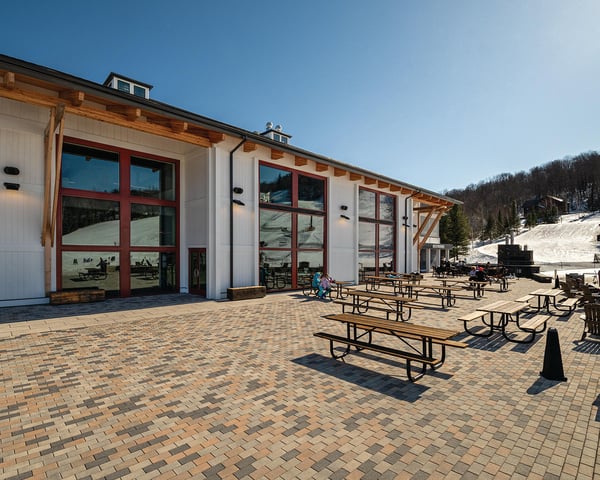 In addition to being gorgeous, they are also heated. When you work with Techo-Bloc, we can help you spec heating elements that work with our pavers and ensure they are installed correctly for the best performance and durability.
New York
Caramoor Estate in Katonah, NY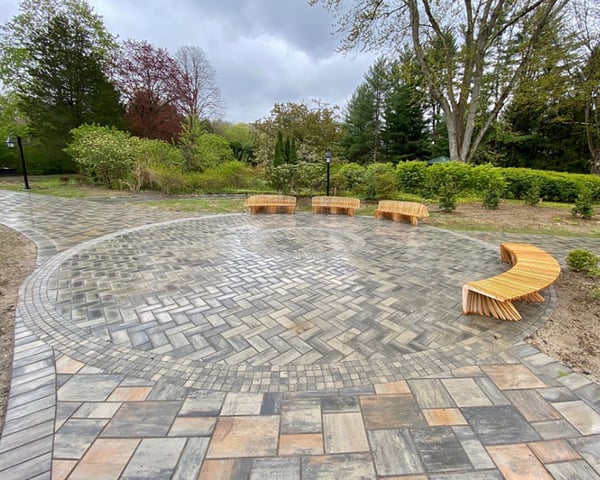 JMC, PLLC helped with on-site development and landscape design at the infamous Caramoor Estate. While this is a private space that houses music and cultural events for guests across the globe, the estate staff would most likely allow architects and design professionals on-site to marvel.
The project used Techo-Bloc's Blu 80 Smooth HD2 products in a 50/50 blend of Shale and Champlain Grey colors. Combine multiple colors like Caramoor for a contrasting pattern that adds pizazz to your design.
Binghamton High School in Binghamton, NY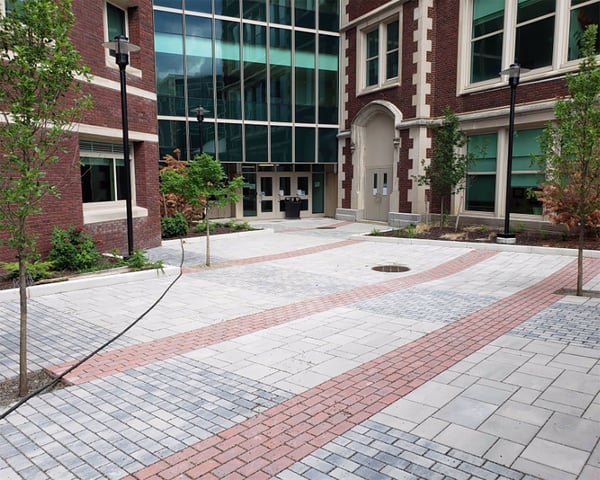 Bernie Martin at Appel Osborne went with Techo-Bloc's Blu Smooth and Mika Pavers in burgundy for his recent renovation of Binghamton High School.
Mika is a new-age take on the classic clay paver look. This concrete version of traditional clay brick is more resistant to pedestrian and vehicular wear, and its large void spaces allow for water to trickle between each brick, meaning it can be used as a stylish permeable paver with the look of reclaimed brick.
Binghamton used burgundy because it looks like a deep-clay brick. But Mika also comes in a smokey grey color called Carbon and a classic beige color with shades of tan called Rock Garden Brown. This product is perfect for designers who want something that looks both old and new.
Visit A Techo-Bloc Installation and Get Inspired
No matter where you reside, Techo-Bloc has an installation for you to visit and become inspired. If you need help finding a location near you, contact us to be put in touch with your local rep.
Or, you can view a full catalog of Techo-Bloc's products to help you start designing your next public space landscaping project.