It's no secret that LinkedIn has become an essential sales and marketing tool for professionals. However, it's especially true for the architecture community.
Due to the visual nature of architecture, portfolios and project imagery display beautifully on any social media platform; yet, the B2B content opportunities combined with the visual aspect make LinkedIn the perfect environment for architects to grow their business.
In the last five years, Techo-Bloc has invested heavily in cultivating B2B relationships on LinkedIn. This has paid off both in anecdotal ways (a new lead tells their sales rep that they love our LinkedIn feed) and in measurable ways (our reporting shows increased clicks and leads from LinkedIn).
However, our success has been obtained through a dedicated analysis of best practices, and we've learned countless lessons along the way. If you're working to grow your following, reputation and your business on LinkedIn, here's the advice we'd give.
B2B Is Still Human to Human
Even though LinkedIn is a professional platform where business people can connect with other business people, all parties involved are still human, so it's important that you speak like one. When posting to LinkedIn, speak in conversational, casual language. The most successful professionals on the platform avoid sounding too robotic or formal.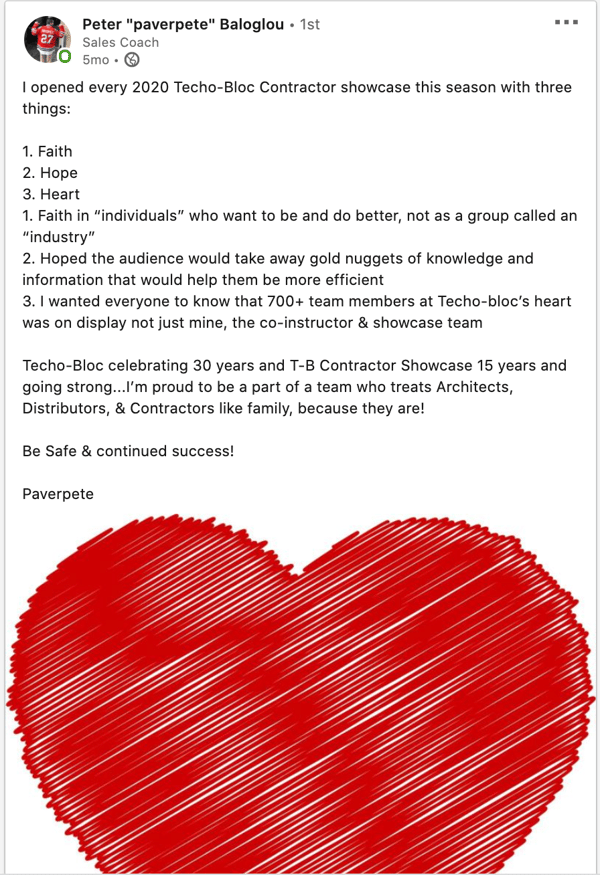 Nobody Wants To Be Sold To
The title pretty much sums it up but asking someone to purchase during their first conversation with you is similar to asking someone to marry you on your first date. Your prospect has no reason to trust you yet, so asking them for something is going to end in disappointment.
Instead, focus your LinkedIn posts on sharing information, inspiration and updates. Bring value to your users, and you'll be who they come to when they're ready to purchase what you're selling.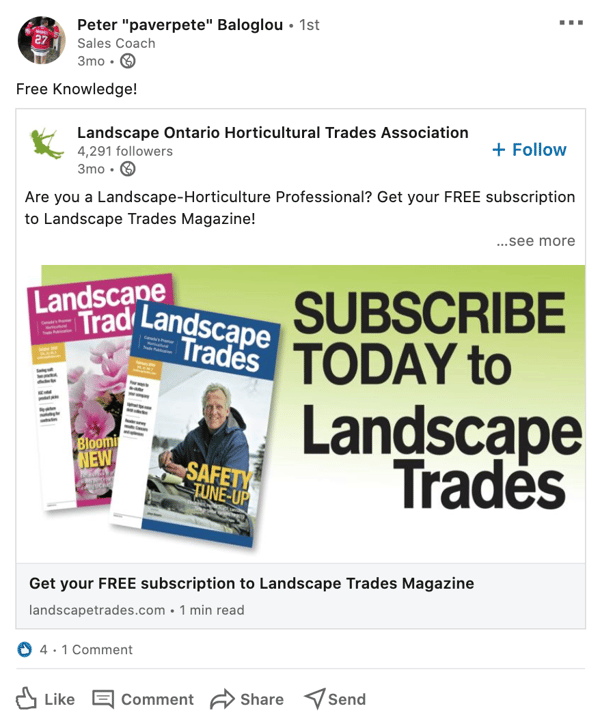 Pictures, Pictures, Pictures
Nowhere is the saying "a picture is worth a thousand words" more applicable than on social media. Luckily, we're in a field that lends itself to stunning photography, and successful LinkedIn architects capitalize on this. Take the opportunity to invest in an experienced architectural photographer, and your LinkedIn audience will take notice.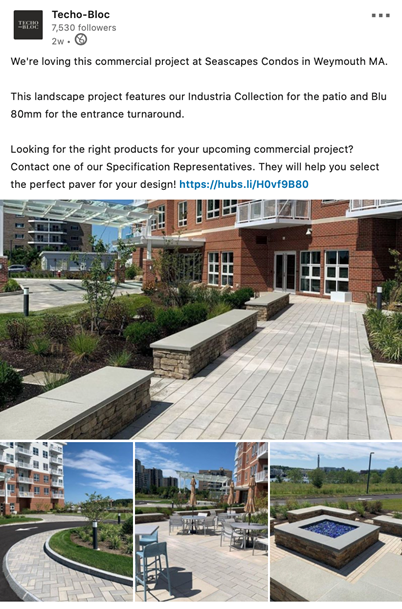 Another benefit of high-quality photography is that it can be used for countless other areas of your business. Whether it's on your website, in proposals or being shared with manufacturers for additional exposure, great project photography is the gift that keeps on giving.
Follow, Connect, Engage and Encourage
Never miss an opportunity to promote and share others' work — and don't be shy with genuine praise. If you admire or have been influenced by someone's work or products, LinkedIn is a great place to talk about it.
Plus, when you're generous with your positivity, it becomes infectious. Maybe generous praise will come back to you or maybe it won't, but you've made the internet a nicer place either way.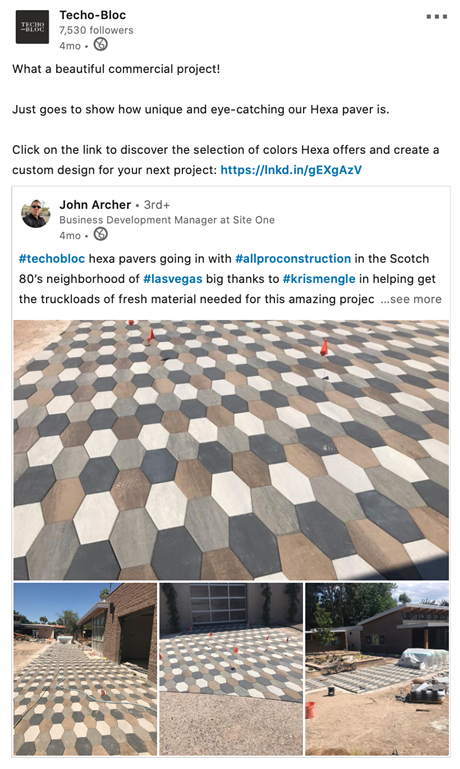 Define Who You Are and Stick to It
Before you get started on LinkedIn (or even if you're already navigating it successfully), it's a good idea to take a moment and ensure that your brand values and messaging are being showcased with every post.
Begin by writing three words or phrases that you want your followers to associate with you. A good example would be: inspirational, educational and boundary-pushing.
These words will help you develop your personal brand on LinkedIn and give you a way to gut-check each one of your posts. Does your draft either inspire others, explain how you're pushing boundaries or help educate the industry? If not, it may be off-brand and need to be adjusted.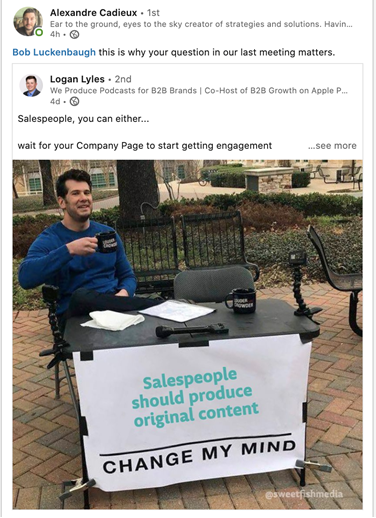 Stay Relevant
Using the three words you chose to describe yourself, look for examples each week that help support this narrative. Those should be your social media posts.
By choosing current events or activities, you'll ensure that your posts are relevant and timely.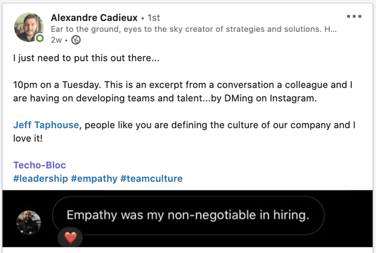 Let Your Profile Work for You
Your profile is one of the most critical factors on LinkedIn. Make sure that your headshot is up-to-date, clear and reflects your three descriptive words.
And please, no college drinking pictures, wedding photos or group photos. If a picture is worth a thousand words, your profile photo is worth a million. Make it count.
Take some additional time on your headline and About section. Make sure it is clearly worded, value-focused and completely filled out. LinkedIn pulls from this information to make new connection recommendations and flag you to potential recruiters.
Be Committed
In general, LinkedIn can be effectively managed in about 10-20 minutes per day. Spend that time liking, sharing and posting new content. If you decide to create new blog content or dive into LinkedIn's Sales Navigator tools, that's great, but not necessarily required to see success on the platform.
When used correctly, almost any social media platform can be beneficial. But when working in the B2B space, LinkedIn can frequently provide the most benefit for the time invested.
Next Steps
So what are some concrete steps you can take to improve your LinkedIn account?
1. Choose your brand words.
2. Update your profile as needed.
3. Join relevant groups.

Did you know that LinkedIn has hundreds of industry groups you can join, putting you in contact with like-minded people? It's a great, easy way to network.

4. Post fresh content consistently.

You should aim for posting two to five times per week, according to Hubspot, during business hours.

5. Schedule time to network.

Make sure to schedule time every day to reply to comments on your posts and comment on other's posts. The more you interact, the more your followers and connections will see you in their feed.
And once you are consistent in your posting and your commenting, you can start dipping your toes into paid exposure, such as boosting your posts. But all the money in the world won't help you if you don't have the basics down first.
Grow Your Business
We hope this blog helps give you some ideas on how to increase your business using LinkedIn — without changing who you are. And we're always interested in learning more about other industry professionals' best practices on social media.
What are you doing on social media that is producing results? Shoot us a message on LinkedIn and tell us what's working and what's not. We'd love to hear from you!